The Lead Scorer feature is an easy way to let your team classify or evaluate the outcome of each call by setting up pre-set codes. During the call, the agent can simply enter the code into their phone at any time to score/tag the call accordingly.
Example Usage
The agent can tag the call whether the caller was booked in for a Job. The agent may use the codes: *1 = Job Booked, *2 = No Booking.
Identify which Sales Person handled the call: *123 = Salesperson 1, *456 = Salesperson 2, *789 = Salesperson 3. During the call, the Salesperson can simply enter their code, and the lead will automatically tag and assign it to them within the Dashboard.
Set up lead scorer capture and tagging
To set up lead scorer, you will need to set the keypad tones for each outcome you would like to track.
1. Navigate to Settings > Advanced, then go to Lead Scorer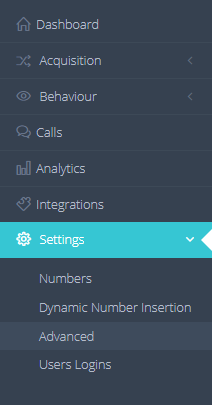 2. Enter the name of your Lead Type.
Example:

3. Assign codes to your agents.

You can set up multiple Lead Types like the example below;

Applying lead scorer to tracking numbers
After you're done setting up your Lead Types and assigning the codes, go to Settings > Numbers, click the speech bubble icon to the number and under "Lead Scorer" select which lead scorer config to apply.
If you do not wish to use lead scorer on a service, under Lead Scorer select No DTMF (default).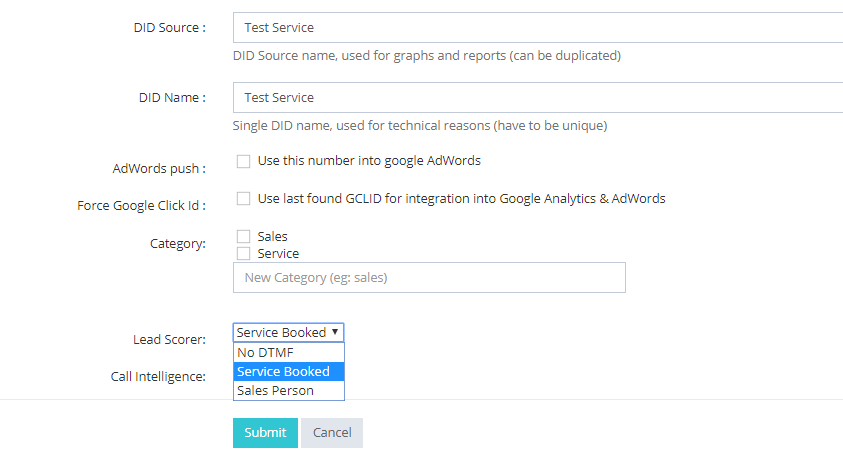 Viewing the outcome in the call log
Any calls tagged using lead scorer will appear in the Calls report, under the advanced column.
Example call tagging based on who handled the call:
| | | | | | | |
| --- | --- | --- | --- | --- | --- | --- |
| Date | Source | Calling Number | Location | Duration | Score | Advanced |
| 2019-10-02 9:30 AM | Demo Google PPC | 61291600111 | Albury, AU | 3:00 | | *12 - Alfred |
| 2019-10-02 9:18 AM | Demo Organic Search | 61291600222 | Australia, AU | 4:20 | | *13 - Nichole |
| 2019-10-02 8:31 AM | Demo Organic Search | 61291600333 | Mobile, AU | Missed Call | | *13 - Nichole |
| 2019-10-02 6:09 AM | Demo Google PPC | 61291600444 | Australia, AU | 2:44 | | *14 - Fred |
Example call tagging based on the outcome of the call:
| | | | | | | |
| --- | --- | --- | --- | --- | --- | --- |
| Date | Source | Calling Number | Location | Duration | Score | Advanced |
| 2019-10-02 9:30 AM | Demo Google PPC | 61291600111 | Albury, AU | 3:00 | | *1 - Booked |
| 2019-10-02 9:18 AM | Demo Organic Search | 61291600222 | Australia, AU | 4:20 | | *2 - No |
| 2019-10-02 8:31 AM | Demo Organic Search | 61291600333 | Mobile, AU | Missed Call | | *3 - Follow up |
| 2019-10-02 6:09 AM | Demo Google PPC | 61291600444 | Australia, AU | 2:44 | | *1 - Booked |