Once you have authenticated with Xero you can now create Prospects.


Prospects are your clients or customers, that you wish to create rates for and invoice directly through Xero.


To create a prospect, navigate to Prospects.
Note: you will need to be a Super User to access Prospects. If you cannot see Prospects underneath the Admin area, please contact our support team and they will give your user access.
Click Create a new Prospect.




Here you will need to fill in your Prospect details:


Package: Sets the default rates (note you can edit these after)
Email: email address to be the main billing contact and will also generate a login link
Country: to set the
Currency: if your Xero supports multi currency, we can create invoices with different currencies
Stripe: Mandatory means the prospect needs to enter their Credit Card details to configure. Not required doesn't show the Credit Card section and the prospect can go on invoice only option.
Client ID: The unique ID that will go into the Xero invoice known as 'Reference'
Under Client: If you require to place a Prospect underneath a different Billing Client (for advanced implementations)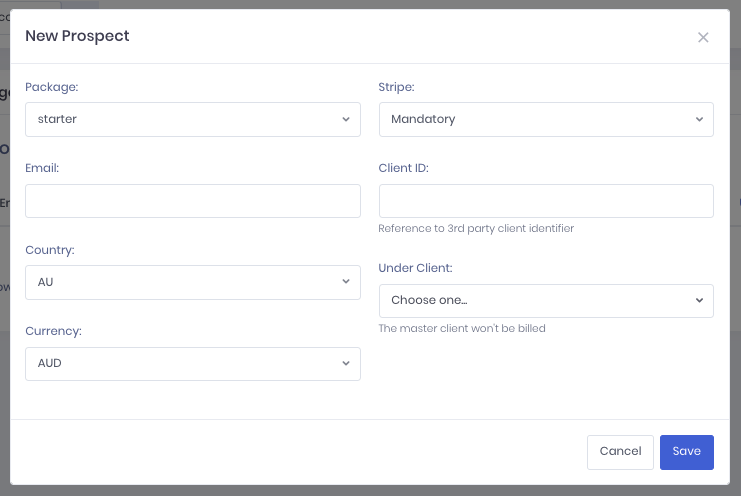 Once done, this will generate a sign up link for you.
Send this link to your client to complete and this will activate their account.