When a call comes through, WildJar can send an alert via email or SMS to notify you. This basic function is important to help you know if a lead has seen your marketing campaign and have tried to reach out to your company by dialing the tracking number. You may want to get back to your customers especially when you missed their calls.
To configure or update the call notification, follow the steps below;
Go to Numbers, then click the name of the number in which you would like to set up the call notification. Voicemail is required to set up call alerts. WildJar will send the call to voicemail after the set ring duration (please see: Modify Call flow - Call Timeout Settings). Make sure that voicemail is enabled by enabling the mail icon.




Under "send notification", select notifications for either All Calls or Missed Calls only.
Upload an mp3 audio file for the outgoing message, or simply type the message you want callers to hear in the message box.
Select from the list of active users to update the recipients or enter the email address of the recipient inside the box. You may enter multiple recipients.
You may enter a valid mobile number if you wish to receive a notification via SMS.
Click Save.
Missed Call Alert Experience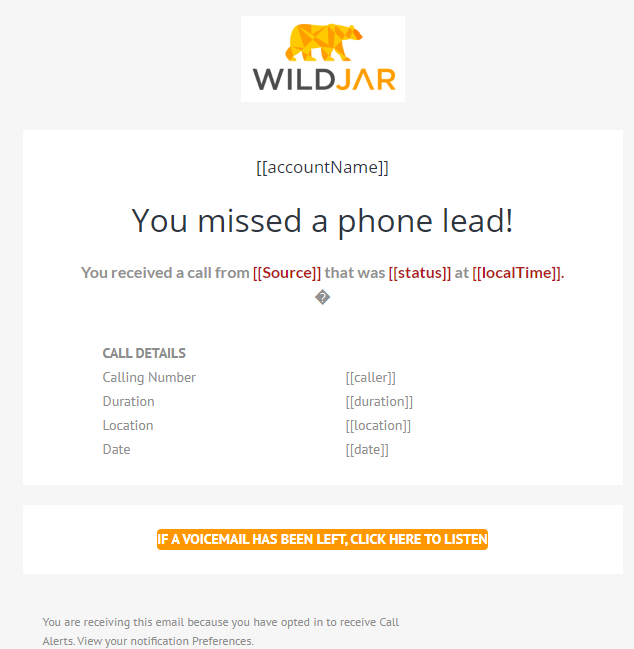 Note: If the destination number's voicemail answered the call, the system will tag the call as answered and therefore will not send any missed call notification or will not send the missed call SMS follow-up message. We recommend to setup the tracking number with voicemail and nominate an email address to receive the notification. When the caller left a message, the notification will be sent and the message will be recorded and can be listened to in the Call section of the portal.